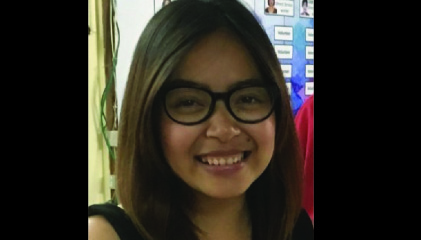 Children of Promise Sunday
March 25th, 2015 | Danielle Brossart

COP Sunday:  Get Real!  Real Lives.  Real Impact.  Real Change.  Really!

Children of Promise sponsorship changes lives. Jewel Viray(above) was sponsored when she was five years old. She excelled in primary and secondary school, winning a scholarship to study Consular & Diplomatic Affairs at the prestigious De La Salle – College of Saint Benilde. Now at 21 years old, Jewel is a Protocol Officer for President of The Philippines, Rodrigo Duterte.
Children of Promise Sunday is the annual sponsorship event throughout the United States. In recognition of the 25th anniversary of Children of Promise, our goal is to sponsor 1,200 children throughout 2017. We need your church to join this significant effort to change the lives of 1,200 children.
You can download materials or request them by mail – all free of charge. Click on 'Register Your Event' button.
REGISTER YOUR EVENT
---
The
Children of Promise
ministry reaches children in poverty in 29 countries outside the United States.  
Currently, 1,200 children, within the Church of God family, are at risk of contracting treatable diseases and conditions like malaria, typhoid, dengue fever, HIV/AIDS, and malnutrition.
These are
real children
who are waiting for a someone to come to their aid. They are attending Sunday School and weekly church services in local Church of God congregations.   
These are "our" children.
Each Church of God in the United States and other developed countries has the capacity to sponsor all of the 1,200 children who currently need sponsors.  Let's Get Real! We can give these children Real Hope!  Sponsor a child today!
God calls us to minister to the poor, the orphaned, and those without hope. We can respond by making the entire month of April or September a sponsorship event, 2017 Children of Promise Sunday. We have set April 30 th or September 24th as Children of Promise Sunday.  Or each church is welcome to schedule a sponsorship event on a more convenient date. The point is to help real children rise out of the bonds of poverty.

PLAN: Ask your pastor or missions' committee if your church plans to participate. Children of Promise (COP) Sunday information was mailed to Church of God pastors the week of February 20, 2017.  If your pastor did not receive the information, just click here to request materials or here to download them.
CHANGE A LIFE: Put a smile on a sponsored child's face. Build his body through good nutrition. Let hope grow through her education. Restore his body through medical care. Invite her to receive Jesus in her heart. Sponsor a Child Now!  Register Your Event!
PRAY: Pray that the Holy Spirit will move freely, encouraging individuals, Sunday school classes, youth classes, men's and women's Bible study groups, and others to step up and sponsor a child.
---
Get Real! Real Lives. Real Impact. Real Change. Really!