URGENT CALL FOR DISASTER RELIEF FUNDS
Bangladesh; West Bengal, India; and Nepal
Please Help

Children of Promise is calling for disaster relief funds immediately for Bangladesh; West Bengal, India; and Nepal. Devastating rains and flooding have damaged or destroyed sponsored children's homes, ruined household goods, killed crops, and contaminated water supplies.
Give Now
National leader of the Church of God in Bangladesh, Tapan Borman, writes today, "Our North Bengal (Bangladesh) people are experiencing high levels of flooding due to heavy rains and a rush of water flow from upstream over the past couple of days.  Already 14 people died in our working church district Dinjapur and millions are suffering by lack of food, home, and diseases. The situation may get worse as more rain is in the forecast for Bangladesh, India, and Nepal.  Please uphold us in your prayers for our safety and God's control over the situation."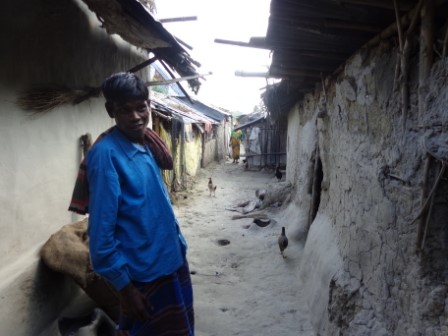 The Church of God in Bangladesh is putting their hearts and arms around these folks loving them into the Kingdom. Children's lives are being changed as well as their families'.  We have the chance to stand alongside them in profound and significant ways.
Their homes are standing in waist-high water. Many of these homes are made of mud, sticks, and thatch, and they are deteriorating and falling apart. The loss of large fields of crops will not only affect access to food, but work will not be available this season. Basic supplies such as food, water, lanterns, buckets, kitchen items, and fresh water are sorely needed.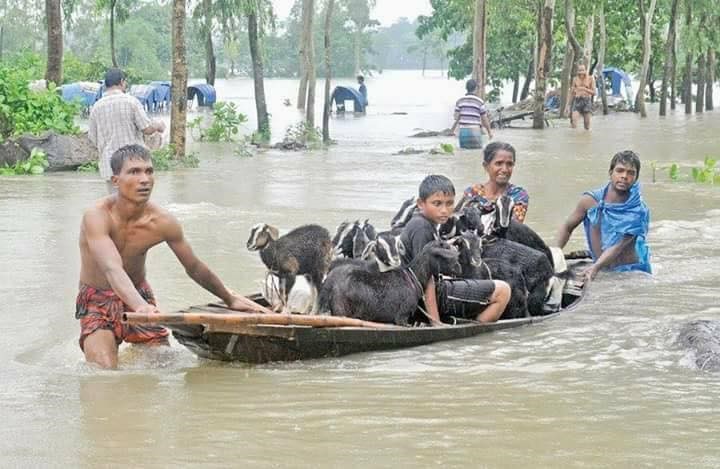 As untouchables, these families will receive help only from their Christian friends who ignore the caste restrictions and reach out and love them.  We are pleased to partner with the Church of God on behalf of the sponsored children of Children of Promise.
These families, as well as COP families in West Bengal, India, and Eastern Nepal, desperately need our help.
Protecting a family's goats is very important as they are also a source of income. The few household possessions they had are now not usable. Everyday tools for living are ruined or carried away by the water. We can relieve suffering and help these children and families.  (Photos submitted by Shikha Borman, director of Children of Promise Bangladesh.)
Here are video links that show some of the flooding conditions:
Keep in mind that you seeing flooding conditions, not rivers.
We will post more information and media as it becomes available. Communication is difficult due to the conditions.
Please help today.
You can donate to Children of Promise in the following ways:
1. Click on the Give Now button to donate by credit or debit card:
    In the "fund" section, select Emergency/Disaster Relief. In the comment section, write "Bangladesh/India/Nepal."
2. Call our office with your credit or debit card in hand. 765-648-2190. Our staff will be glad to take your donation over the phone.
3. Send a check marked "Disaster Relief Bangladesh/India/Nepal" to Children of Promise, P. O. Box 2316, Anderson, IN 46018.
Thank you for assisting our brothers and sisters as they face this incredible challenge.
We ask our sponsors, donors, and friends to share this email so that the most people possible can see this need and respond.
Any funds donated over the amount needed for the disaster will go into the Emergency Fund for future disasters and emergency needs of sponsored children and their families.
God bless you. Let's relieve suffering in Jesus' name.
Dr. Paul L. Maxfield
Executive Director
Children of Promise