Dr. Paul Maxfield
As I fly over the Caribbean Sea on my way home from Guyana, in my mind I am walking the dirt roads of Sophia, a community on the outskirts of Georgetown, Guyana.
The houses are mostly wooden, with wooden louvered windows. They sit on stilts because when it rains, the waters flood the entire community. Homes that are not on stilts are often overrun by the floodwaters. Sophia Church of God Pastor Wray and COP Director Sheena Collins walk the area in high rubber boots on those days. It's the only way to make your way through the community and to the children's homes where Children of Promise is now serving children.
Many homes do not have electricity, and those that do have tapped into public lines, producing large mangled, tangled messes of wires that don't give one a sense of safety. Water is carried from either public spigots or from water piped into yards, but rarely into homes.
In Sophia, as well as in other communities in Guyana where COP is beginning, stories abound of children abandoned, malnourished, taken advantage of, and unable to enjoy even the basic life experiences of sufficient food, an education, and health. Dengue is common, as is typhoid. Children's lives are not hopeful. They are difficult.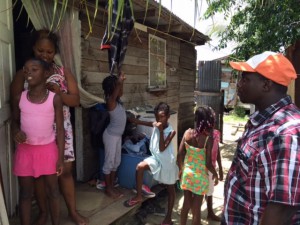 Yet, as I walked the community, meeting the children and their families, I sensed a spark of hope. The first children have not yet been sponsored – we are waiting on eager sponsors to take that step – but Pastor Wray and Sheena see the potential, they are excited about how the program's benefits match the children's needs, and they are convinced that the program will have a profound spiritual impact on the children and the community.

They believe the church's future leaders are now living in these small dwellings, trapsing through the mud streets, and attending Sunday School at South Turkeyen Church of God Prayer Centre (congregation in Sophia). And I agree.
I've seen it so many times.
Kids with literally –
nothing to look forward to,
nothing that promises them more than the meager existence they live now,
nothing more than perhaps one set of clothes,
nothing but a space on the floor to sleep,
nothing but their very breath that keeps them going.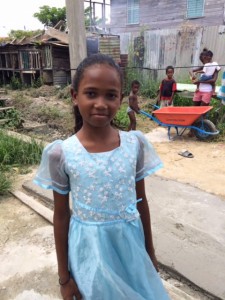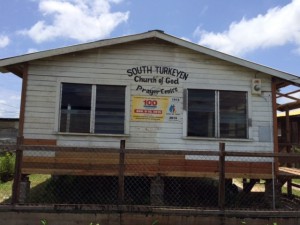 These young people are now ……
teaching,
pastoring churches,
running businesses,
teaching Sunday school,
working as doctors and nurses,
working in social welfare ministries,
doing the accounting for firms,
serving in their communities,
providing for their families, and
continually bettering themselves.
All because someone said, "I'll help that small boy," or "I'll walk alongside that young girl as her sponsor."
Having someone validate their importance and make them feel worthy of attention is a strong motivator. For many children, their sponsor is the one person who tells them they are important and proves it by helping them and supporting them in a consistent, committed manner. This combined with education, nutrition, health care, and spiritual nurture cannot be overstated in a child's life.
I have great hope for the children of Guyana. Their country is stunningly beautiful, and mostly undeveloped. There are untold natural resources yet to be tapped. And there are human resources in the form of thousands of children whose natural abilities and God-given gifts are waiting to be developed.
The church is passionate about helping them, the committee is eager to begin. The children have a spark in their eyes when you mention church. They are ready for a bright future. They are daring to believe it can happen to them.
And it can.
The kids are waiting and praying.
Won't you answer a small Guyanese child's prayer today? Call us 1.765.648.2190 or email. We'll be glad to help you sponsor a child in the Land of Many Waters.