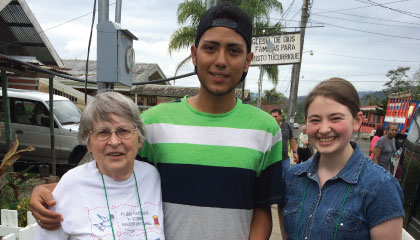 Faith Promise
July 22nd, 2015 | Danielle Brossart
An exercise in faith and giving.


Local congregations of the Church of God missions/outreach committees plan and promote a variety of local, state, national, and international ministries to support through the vehicle of a Faith Promise campaign. Children of Promise has been included in Faith Promise campaigns across the United States, and members of our staff often speak at Faith Promise events.
If your Missions/Outreach Committee is interested in including Children of Promise in your Faith Promise budget, please let us know and we will be happy to provide you with materials and resources to promote Children of Promise. Here are just some ways you can support Children of Promise:
Making It All Happen
While each child sponsorship support donation has a 20% allocation to Making It All Happen, this does not cover all the costs of running the ministry. Children of Promise raises approximately $255,000 annually for Making It All Happen. Besides individual donors, many churches have committed, through Faith Promise or Missions Giving, to help underwrite funds for the operation of Children of Promise.

Child Sponsorship/Individual Sponsorships
Many churches and/or church groups sponsor one or more children around the world. Some sponsor one child per month; others sponsor as many as 15 or 20.
Group Sponsorships
Some churches support a group of children; these children typically live in an orphanage setting. Current group sponsorships include: Shoubra Day Care (Egypt), $32; House of Blessings (Haiti), $38; Girls Home (Jamaica), $38, and Cedar Home for Girls (Lebanon), $38.

Church Mission Trips
Take a small group of people on one of our site visits to a variety of countries. We often visit three to four areas of the world each year.
Vacation Bible School
Use the annual Vacation Bible School to raise awareness of the plight of the poor and raise money for ongoing Children of Promise needs. We have raised money for mosquito nets, blankets, among other things. Please check with our office to see what the most urgent need.

Christmas Gifts Fund Raiser
Each year we rely upon our sponsors to send a monetary gift ($10 or $15) so their children can receive a Christmas gift. Each year there are a handful of countries that receive very little for their sponsored children. A Faith Promise contribution to purchase Christmas gifts for our sponsored children would be so appreciated. One-hundred percent of the gift contribution is sent to the field to help purchase gifts in each country. We send Christmas funds to the field beginning October, so we need to receive the funds between July and October. Funds received after October, will still be sent but that may mean a gift is given in January rather than at Christmas.
Emergency Fund
Medical expenses for operations, cancer treatment, drought, flooding, tropical storms, tsunamis, and civil unrest often necessitate a fund-raising campaign. The more minor costs of some of these emergencies requires the ongoing sustainability of this fund, making an annual Faith Promise contribution to the Emergency Fund welcome.
Please note: We do ask that Children of Promise be included in your Faith Promise budget if you would like one of our team to speak at your event.