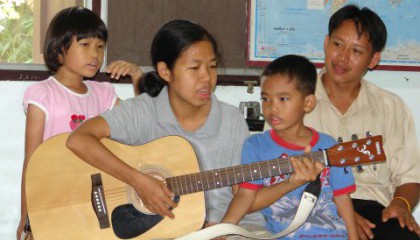 Making It All Happen
February 3rd, 2015 | Danielle Brossart
Many people help support the operation of the ministry.
Every mission's effort requires a basic budget.  At Children of Promise, we call that Making It All Happen.
Just like a church budget, Children of Promise must pay for the resources for ministry, staff, maintenance, COP office facilities, accounting, equipping our volunteers, and much more.  We refer to this as Making It All Happen.  Twenty percent of sponsorship support is allocated for operating the ministry, Children of Promise must raise an additional $255,000 annually. The generous donations from partnering congregations and individuals enable Children of Promise to cover the support services of the ministry. With this support we make sponsorship happen.
If you would like more detailed information, you can download COP WORKS, a booklet written for decision makers in the church.  COP WORKS explains who we are, what we do, and how we do it; it also responds to accountability questions.
COP Works! (A Decision Makers' Handbook) - ( 3 MB)
Making It all Happen provides the following:
At least once every three years, all the children and local and national  leaders are visited and interviewed by the USA COP staff, sponsors and donors.  The well-being of each child is the ministry's primary concern.  Children answer questions about their health, education, nutrition, and spiritual development.  The children's families and the national and local leaders are to report medical, educational and nutritional needs in their children.  Children of Promise always seeks for ways to lift up the children and their families with better services and assistance.

Child sponsorship is the backbone of Children of Promise.  When a child is sponsored, we commit that he or she will be sponsored until they finish high school. With thousands of sponsored children and sponsors, accurate record keeping is an enormous task.  It involves tracking children, sponsors, donors, sponsorship funds, special gifts. It includes producing statements; reviewing director financial records from the field, and answering donor questions.

Children of Promise has a compelling story to tell. While the poverty may look different from country to country, the devastating effects of poverty are the same.  Children of Promise uses a variety of methods to tell the story of our children.  COP Sunday is our largest single event to sponsor children every year.  As the Church of God (Anderson, Indiana) child sponsorship ministry, Church of God congregations provide the vast majority of COP supporters.  Our staff is committed to producing promotional materials in the cost-effective manner.

If a picture paints a thousand words, then social media paints a million.  The Children of Promise website (www.echildrenofpromise.org) strives to tell stories of the children and encourages involvement in our ministry.  In addition to our website, we communicate via email, regular mail, FaceBook, Twitter, and promotional DVDs.

Children of Promise is making a tangible difference in the lives of children.
Your gifts to Maiking It All Happen make help and hope possible for children.
GIVE NOW
Send gifts to: Children of Promise, P.O. Box 2316 Anderson, IN 46018 or get more information by contacting Kirk Bookout (765) 648-2114.