1948–2015
Genevieve "Jan" Tregellas spent her life loving children. She had a day care in her home for over 40 years and poured herself into the lives of countless children. The last several years of her life when she was unable to care for children in her home due to illness, "Miss Jan" got her "kid fix" with helping in Sunday School and Children's Church at the First Church of God in Elkhart, KS.
Genevieve never passed by a baby or a child who she didn't stop and talk to. Trips to Walmart always took twice the necessary time when all the "kid time" was factored in. And in the last weeks of her life a 6 year old neighbor girl came to visit several times. She and "Miss Jan" would read book after book until "Miss Jan" was too tired to read.
Genevieve, and her husband Dennis, became the first to sponsor a Children of Promise child in the country of Malawi in 2009, when the program opened in that country. Her daughter, Rev. Tammie Tregellas Boykin, a former Church of God Ministries Missionary, helped to start the program in Malawi. Genevieve and Dennis love getting letters and updates from their sponsor daughter Nenani.
In the early part of 2015, Malawi was hit by intense rain and flooding. This left many homes of sponsor children either damaged or completely destroyed. Currently, homes are still being repaired and rebuilt. Memorial contributions in the memory of Genevieve Tregellas will assist the sponsor children of Malawi with their housing needs.
If you wish to donate to rebuilding homes in Malawi, click on the Donate Now button below. Complete the requested information; select "Memorial Gifts" on the Fund line. In the comment box enter "Genevieve Tregellas Memorial Fund". Thank you for honoring "Miss Jan" in this way; our sponsored children in Malawi are grateful for the shelter you are providing.
DONATE NOW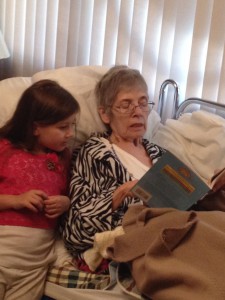 Addison and "Miss Jan" reading…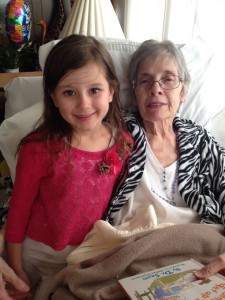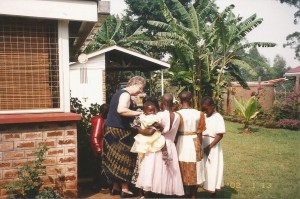 Genevieve made friends with children everywhere she went, even in Kenya, where she blessed local children with lollipops.