COP's Music Artists
Children of Promise (COP) passionately cares about helping children who live in deep poverty change the trajectories of their lives. Doors have opened for nearly 15,000 children who have been sponsored in the developing world.  These children have received a primary and secondary education, nutritious food, medical care, and spiritual nurture through local Church of God congregations in their towns and villages. It is a huge but rewarding task. Since 1992, local churches, individual sponsors and donors, and a global volunteer team have made a significant difference in the lives of these children.
Recently, Children of Promise launched partnerships with musical groups Alanna Story and the Rock Bottom Boys of Madison County to help spread the word of children's need for sponsors to offer hope to them. We are excited to add another well-known music artist group, Common Bond Quartet.
Common Bond Quartet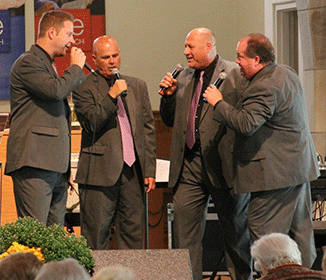 Common Bond is a Southern Gospel Music quartet known to many people in the Church of God. Members Rick (lead) & Karen (Tate) Melton (pianist, alto, and tenor) and Bryan Stevenson (bass) have deep Church of God roots. Rick formed the group in 2009 and sings lead. Mike Bradshaw (baritone) and Lee McCarren (tenor) complete the group. The latest development has Karen stepping up to the front line with the guys to sing alto or tenor background vocals. She also books and promotes their 120 appearances each year.
Karen talks about CBQ's developing passion for Children of Promise: "Sometimes God's plans go before us…by many, many years. As long ago as 1976, I was in the youth choir of First Church of God, Albany, Oregon where Paul Maxfield was the Youth Pastor and Worship Director. Through the power of Facebook, I was connected to Paul and watched the progression of his ministry throughout the world as part of Children of Promise. If you follow the stories for very long – even on Facebook, you are inspired by the mission of Children of Promise."
The Meltons met Children of Promise's Development Director Kirk Bookout at a Pastor's Fellowship meeting in Kentucky in the fall of 2018. Rick and Karen shared that they had been considering a partnership with a child sponsorship ministry to give back the blessings they had received through their music ministry. Their interest was piqued when Kirk shared the COP story with them.
The COP ministry presently meets the needs of 4,600 children in 29 countries in the world. Common Bond Quartet will have child profiles with them on the road and are authorized by COP to sponsor the children. Children of Promise is thrilled that Common Bond Quartet will represent the ministry and plead the case of thousands of children within the global Church of God who knows the devastation of poverty – poverty that robs children and their families of Hope.
COP Executive Director Paul Maxfield states: "In the developing world, there are no safety nets for those who live in deep poverty. There are no food stamps, no housing assistance, no woman and child benefits, no Medicaid. The poor are on their own. I am so thankful for partnerships like the one we have with Common Bond Quartet. They feel compelled to share the needs with everyone they meet in their sphere of influence through music ministry. We welcome them with open arms."
CBQ wants their audiences to experience meaningful worship and to be encouraged by their ministry. They have recorded 11 albums. In 2018, they recorded Music in the Air and Classic Hymns. Each of CBQ's latest recordings is sure to please those who enjoy good southern gospel quartet music or familiar hymns of yesteryear. In October 2018, they appeared at Valley Theatre in Dollywood as guests of Singing News Magazines as a part of their month-long celebration of Southern Gospel Music. Rick and Karen blended their audio recording of In His Hands with Children of Promise's video Rescue. Restore. Release. – visually telling the COP story. (YOUTUBE: https://www.youtube.com/watch?v=XndTFqeEXyk) CBQ will share stories through their music and give their audiences the opportunity to sponsor children at their concerts.
Website: https://commonbondquartet.com/
Product: https://commonbondquartet.com/songs-downloads
Booking: https://commonbondquartet.com/book-cbq
Call Karen at 541.974.5002 to host a concert at your church.
Itinerary: https://commonbondquartet.com/schedule
Alanna Story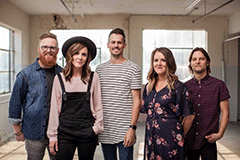 The dynamic duo of sisters Anna Hodge and Ally West along with their husbands Ben Hodge, Stephen West and friend Joel Burkhead became Alanna Story in 2008. Alanna Story and Children of Promise partnered in 2017 to share the story of children who need heroes in their lives to overcome the extreme poverty that has held them back in life.
Regardless of their platform, Alanna Story's main pursuit is unwavering – love God and do what He says. Ally shares, "I know that worship transcends music. It's a way of living. A way of giving worth to the most vital part of my life, and that's the Lord. Our music and what we do in a corporate worship setting is definitely a powerful avenue to allow a community to worship together, but it goes so much deeper than that. Worship is a heart posture. It's a daily surrendering of my whole heart to God."
Their latest album, Babel – When the Walls Come Down, reflects Genesis 11. Anna writes about the core idea of the album: "Sometimes God has to frustrate our plans, and confuse our paths and breaks down our walls as He did at the Tower of Babel in order to get our attention and remind us to keep Him at the center of all we do."
In 2017, Anna, Ben, Ally, and Stephen packed their bags and guitars and headed to Ecuador with Paul Maxfield, Executive Director of Children of Promise, to learn about the ministry of Children of Promise. They were a hit with the children. The hearts of the band members were changed forever by the poverty they saw. Their experience prompted them to sponsor children as well as solidified their desire to do more for COP children around the world. In two cases, Alanna Story presented budding worship leaders in Ecuador with guitars. The two teenagers who received the guitars could not say thank you enough.
Once they returned to the States, they produced a video of their trip to Ecuador and began promoting child sponsorship through Children of Promise in their concerts. The band shares about their personal experiences with the children."
Now in its tenth year of ministry, Alanna Story has recorded six albums: Babel – When the Walls Come Down (2018), We Hymn (2016), Ancient Gates (2014), Just Offshore (2013), Flickering Spark (2011), and Keep Breathing (2009). Their music falls into several categories: worship, folk rock, experiential.
Website: http://www.alannastory.com/
Product: http://www.alannastory.com/store/?category=Physical+CDs
Their albums also can be found on iTunes and Spotify.
Booking: http://www.alannastory.com/contact/
Itinerary: http://www.alannastory.com/dates/
Rock Bottom Boys of Madison County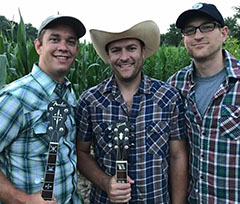 Entertainment, pure and simple. Laughter. Toe-tapping. Hand-clapping. Fun. You know you are in the presence of the Rock Bottom Boys of Madison County if you are smiling and feeling good. While in college, Trent Palmer and Jason Varner discovered that they both loved Americana and bluegrass music. They found time to have regular jam sessions to enjoy this genre of music. Almost a decade later, Trent and Jason found themselves back at Anderson University, Anderson, Indiana. Trent works as the Director of Student Engagement, and Jason is "Dr. Varner," assistant professor of the History of Christianity.  One thing had not changed over that decade: their love of playing and singing Americana and bluegrass music. They played numerous events at Anderson University which led them to form the Rock Bottom Boys. They also added the very talented Mike Snyder to the group. Mike serves the Alexandria Church of God, Alexandria, Indiana, as Interim Pastor and Liberty Christian School, Anderson, Indiana, as Band Director.
Jason says of Mike, "The guy can play anything with strings. He is kind of the musical soul of our group." Mike sings and plays most of the solos in the group. Trent plays guitar, sings, and handles booking and outreach. Jason plays guitar and sings. The three men are collaborating in writing material for their first album and plan to go into the studio to record in early 2019.
More groups kept asking them to play at a variety of events, including gigs in restaurants, the Anderson City Market and churches. They added "of Madison County" to their name so people would know where they lived.
The Rock Bottom Boys' circle of influence expanded and so has their repertoire and passion for helping non-profit organizations with fund-raising. In May 2018, the Rock Bottom Boys (RBB) partnered with Children of Promise (COP) to benefit the ministry serve the needs of children in 29 countries in the world within the Church of God.
The Rock Bottom Boys have already sponsored two events to benefit Children of Promise, and are eager to book further concerts and events. Pure, musical fun!
Facebook: https://www.facebook.com/RBBMC/
Product: Anticipated 2019 release date of their first album; follow on
Booking: Contact Trent Palmer at rockbottomboysofmadisoncounty@gmail.com
Concert Itinerary: https://www.facebook.com/pg/RBBMC/events/?ref=page_internal