Seen First Hand by Dr. Paul Maxfield
November 18, 2015
Dear Friend of Children of Promise,
Two weeks ago I was standing on a high precipice in the Himalayan Mountains, looking in all directions at small, remote houses dotted on the mountainsides.  Some of the little house rooftops glimmered in the sunlight – and I smiled.  Every glimmering, tin roof signaled a home that Children of Promise donors were building for victims of the April 2015 earthquakes.
As I traipsed straight up and down the steep mountainsides from home to home and church to church, my thoughts were focused on gratitude to people who will give in order that others might be helped in times of great need – whether it be sponsorships, disaster relief, medical attention, or food or schooling.
I was so impressed with the Nepali people in the aftermath of the disaster.  They have worked so hard to clean up; to rebuild; to go on in spite of great hardship.  At the top of one of the mountains, standing in a partially-built home of cement and stone, I learned that every nail, every roof support timber, every sheet of tin, and every bag of cement was hauled up the steep mountainsides by someone – carrying it on their backs, trip after trip.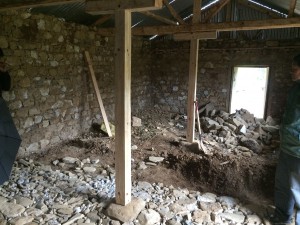 Work in progress on a COP family home in Nepal.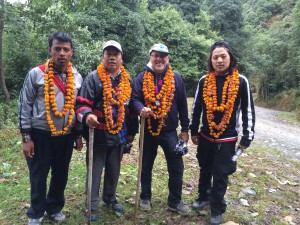 I was stunned.  I had hardly been able to get my body to the site!  These people are willing, ready, and eager to help themselves.  They just needed a hand up in the face of tremendous odds.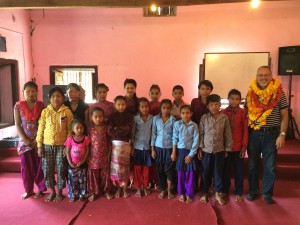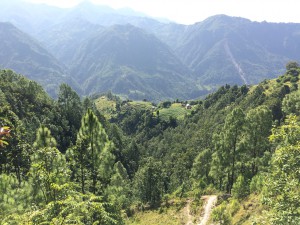 Our COP supporters gave them that hand up – and they are so excited about their homes.  Many are now living in temporary structures made of tin, scrap metal, etc.  But, with winter coming in the Himalayas, they need more substantial shelter since their homes have collapsed or been condemned.  And…….they will have it because of the generosity of COP donors.  Construction has been hampered because of embargos on some building goods as of late; however, the families told me they are expecting that to be over and building to continue in November.  They are eager to complete their homes.
Thank you for giving to the Nepal Relief Effort.  At this point, we are still needing funds to complete the homes.  If you are able, please help us follow through with our friends in Nepal.  About $17,000 has been provided; We are needing at least that much more.  Thank you for considering a gift to Nepal Relief Effort.
Real Lives.
Real Impact.
Real Change.
Really.
Grace, Peace, and Blessing,

Dr. Paul L. Maxfield
Executive Director
Children of Promise
God bless you.