Honduras – Niños de Promesa
Carolina Stewart
Niños de Promesa
The Children of Promise sponsorship program in Honduras began in 2004. Children of Promise director Carolina Stewart and the COP committee work tirelessly to administer educational, nutritional and health care benefits as well as coordinate the spiritual nurture for each sponsored child through the local ministries of three congregations in the Caribbean coastal region.  Many children are from one-parent homes where the father has abandoned the mother and children.
Unemployment, deforestation, poverty, uncontrolled land development, AIDS, and a high crime rate are challenges faced by the country. Children are the first victims of some of these these conditions.
The cost of sponsoring a child here is $32 per month. Your support is giving a very special child hope and a future.  Thank you!

Honduras, Central America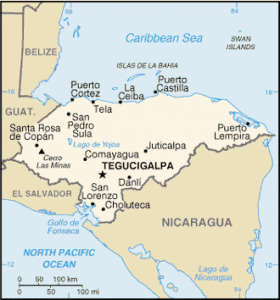 Honduras is located in Central America.  It borders the Caribbean Sea, between Guatemala and Nicaragua.  It borders the Gulf of Fonseca (North Pacific Ocean), between El Salvador and Nicaragua.  Honduras is subtropical in the lowlands, and temperate in the mountains.  There are mostly mountains in the interior, with narrow coastal plains.
Honduras experiences frequent, but generally mild, earthquakes.  In addition, it is extremely susceptible to damaging hurricanes and floods along the Caribbean coast.  The country was devastated by Hurricane Mitch in 1998, which killed about 5,600 people and caused approximately $2 billion in damage.
For every 1,000 live births in Honduras, nearly 30 children die. Ninety-seven percent of the population is Roman Catholic.  There is a Protestant minority.
Honduras is one of the poorest  countries  in the  Western Hemisphere with an extraordinarily unequal distribution of income and massive unemployment.  It is extremely difficult for parents to feed and care for their families.