Colombia – Central Church, Bogota
Elana de Barbour
Niños de Promesa
The program through First Church of God in Bogota serves children living in an urban metropolis.  Children live in small apartment or tenement dwellings that are crowded and located in unsafe neighborhoods.  Families are often transient and mobile, often in search of work or better living conditions.  The director and volunteers do everything in their power to rescue, restore and release young people into a world that presents constant challenges.
The cost of sponsoring a child here is $32 per month. Your support is giving a very special child hope and a future.  Thank you!
Colombia – Bogota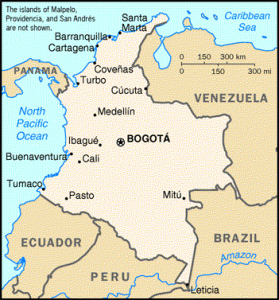 Colombia is a beautiful country of many contrasts. One of its main features is the rugged Andes mountain chain. The Andes are situated in the central and western parts of the country and extend north-south across almost the entire length of Colombia.
This country has suffered a great deal politically. During the 1960s, harsh social conditions in Colombia were a breeding ground for guerrilla groups that have been dominating the political scene ever since.