Ecuador- Niños de Promesa
Angelita Downing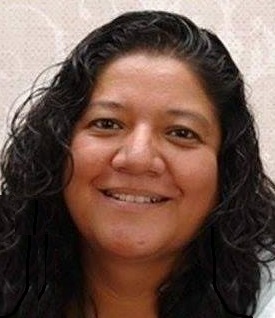 Hope of Ecuador
In 1995, Children of Promise began ministering in Ecuador.  Hope of Ecuador, as Children of Promise is known in Ecuador, now has a ministry for children in 12 churches.  Some of these sites are located high in the Andes, some are in urban areas, some are in jungle areas, some are in rural/agricultural areas, and some are in the Pacific coastal area.
Angelita Downing, COP director, works tirelessly with the local committees to provide the benefits in education, nutrition, health care and spiritual nurture for the sponsored children.
Ecuador is experiencing increasing instability in government as well as the cost of goods and services.  Committees in each site oversee the daily program operations of purchasing and distributing food, providing school supplies and fees, taking children to the doctor for medical area, and seeing that they are introduced to Jesus as Savior through local Christian education programs in the churches.  Local volunteers help bring stability through the Children of Promise ministry.
The children live in very humble houses, made of  wood, cement block or adobe.  Their parents have difficulty in earning enough to provide for their basic needs.
The cost of sponsoring a child here is $38 per month. Your support is giving a very special child hope and a future.  Thank you!

Ecuador, South America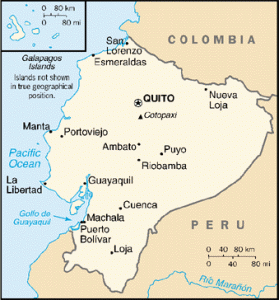 Ecuador is a located on the western coast  of South America. It is bordered on the north by Colombia and on the south by Peru.  Brazil is situated to the east.
Ecuador has varied terrain.  The Amazon jungle lies in the east, with the high Andean Sierra in the center, and fertile coastal plains lie on the Pacific Coast. Quito is the capital of Ecuador. Spanish is the official language. The main export commodities are oil, flowers, shrimp and bananas. Ecuador is the world's largest exporter of bananas.
The climate in Ecuador varies, depending on altitude and location.  Temperatures are quite cool in the Andean highlands, while the coastal and Amazonian areas are hot and humid.
Ecuador received its independence from Spain in 1830. Political stability has been rare.
Ninety percent (90%) of the population is literate.  The culture has been strongly molded by Catholicism.  There is freedom of religion.