Egypt
Hope of Egypt
In 2004, Hope of Egypt began offering sponsorship of individual children through congregations of the Church of God in several areas of Egypt.
The families and children of the Church of God in Egypt have suffered during these politically unsettled times.  The recent unrest has at times jeopardized the lives of our sponsored children and their families.  Children of Promise (Hope of Egypt) and the Church of God in Egypt needs our prayers and support during these difficult times.   
Hope of Egypt ministers to children in urban slum settings as well as rural communities.  Life is difficult for families, with resources and amenities in short supply.  As the families are a religious minority in an Islamic country, the Church is so vital to the support and encouragement of children and their families in their spiritual walks and in daily life.
The cost of sponsoring a child in Egypt is $32 per month. Your support is giving a very special child hope and a future.  Thank you!

Egypt, North Africa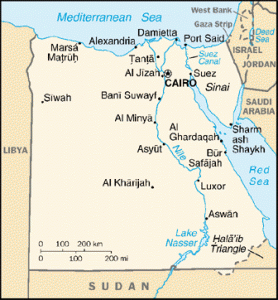 Egypt is located in Northern Africa, bordering the Mediterranean Sea.  It borders Libya, the Gaza Strip, and the Red Sea north of Sudan. It includes the Asian Sinai Peninsula.
Egypt has long been thought of as the land of pyramids and monuments. It has also been the land of emperors and kings. Egypt is one of the world's oldest civilizations, having emerged from the Nile Valley around 3,100 years ago.
The official language of Egypt is Arabic, with English and French widely understood by those who have been educated.
The literacy rate is only 57.7%. 
The infant mortality rate in Egypt is 33.9 deaths out of 1,000 live births.