Guyana – Children of Promise
Adeola Dorris
Children of Promise
Warm greetings come to you from the Church of God in Guyana.
Guyana is a developing country of vast natural resources, multi-ethnic and diverse cultures with lavish land space, but for many years has found itself being challenged by poverty.
Even with many improvements and increase national spending in health, education, infrastructure and agriculture. There still are families who struggle to access opportunities that would allow them to live better lives. Often the most vulnerable are children and the elderly.
The inability to gain access to basic needs, such as healthcare, nutrition, and education is an impediment for development and could have a negative impact on children and the future generation.
Partnerships such as Children of Promise Program will go a long way to reduce the effects of the hardships that many communities in Guyana face.
It is believed that through the program's constant support, lives will be enhanced by providing that needed opportunity to the basic necessities of life.
Since we can accomplish more by working together let's make a unified effort in love for a positive change in the children's lives.
Adeola Dorris
Program Director – Guyana
Guyana – South America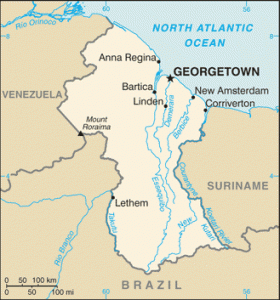 Guyana, the Land of Many Waters, is the sole English-speaking country in South America.  Known as British Guiana until independence from Britain in 1966, it is located between Venezuela and Suriname, and north of Brazil.  Guyana is home to nearly one million people with 75% of Guyanese living in and around the capital, Georgetown.  Most of the country is undeveloped.   Vast miles and miles of rain forest and jungle cover most of the nation.  It is a stunning country with many natural resources yet to be utilized.