Jamaica – Children of Promise
Claude Ellis
Girl's Home
The Girls' Home is a ministry of Women of the Church of God in Jamaica.  Children of Promise partnered with Women of the Church of God (Jamaica) in 2000 to help with the funding of the Girl's Home.  The ministry is located in Kingston.
The ministry of the Girl's Home is designed to help girls who have been abandoned by their families, abused, and neglected.  Girls are often referred or placed in the Girl's Home by the Jamaican government in order to protect them from the harm about them.
Your monthly support provides lodging, food, education, medical care, and Christian nurture.  Your friendship, compassion, interest and active, prayerful concern for these girls is making a difference in their lives..
The cost of sponsoring the program here is $38 per month. Your support is giving very special children a hope and a future. Thank you!

Jamaica, Caribbean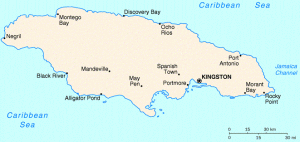 Discovered by Christopher Columbus in 1494, Jamaica remained a Spanish colony until captured by the English in 1655.  It gained its independence in 1962, and is an important force in the tourism economy and politics of the Caribbean.
Jamaica is about the size of the state of Connecticut and measures 4,400 square miles.  It measures 145 miles from east to west, and 20 and 50 miles from north to south.
Jamaica is dominated by mountains, mostly covered with lush, green forests.  Blue Mountain is the highest point, at 7,402 feet.
White beaches surround this tropical island, and over 100 small rivers (mostly streams) flow from the mountains to the Caribbean coast.
Located 95 miles south of Cuba, Jamaica is know for many things but certainly on top of any list are the numerous idyllic beach resorts, local pirate history, Reggae music, culture, food, and of course, delicious Blue Mountain Coffee.