Myanmar – Myitta
Dorothy Colney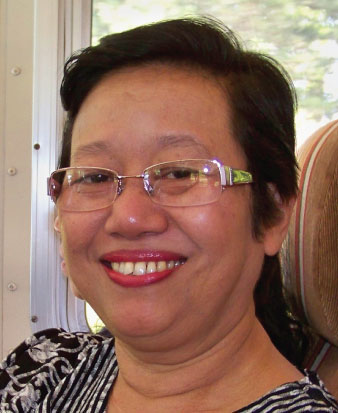 Myitta
Under the shadow of the famous Buddhist pagoda, Shwe Dagon, in Yangon, the church is ministering to needy children whose lives have been affected by the wide-spread despair and resentment, which has followed the repression of democracy.
Children of Promise began in 1995 in Myanmar. Presently, there are over 300 sponsored children in seven  communities. The church has a strong program of Christian nurture for the children and their families.
Rev. Dorothy Colney, national leader of the Church of God in Myanmar, also serves as COP director.  Rev. Shelly Win, assistant director of COP, works with Dorothy and countless volunteers to bring hope into the lives of the sponsored children in Myanmar.  Together, they have seen God move in extraordinary ways to help the Church of God grow, especially through Children of Promise.
The supplementary assistance of food, clothing, medical help when needed, and educational opportunities are a great help to these children of very poor families living in small, one-room bamboo dwellings.
The cost of sponsoring a child here is $32 per month. Your support is giving a very special child hope and a future.  Thank you!
Myanmar, Southeast Asia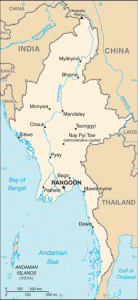 Myanmar (Burma) is ringed by a horseshoe of high mountains that isolates the country from India, China and Thailand. The country has known little peace since the Japanese invasion in 1942. Myanmar received her independence from Britain in 1947.  The  official  language  is  Burmese.
The capital is Yangon, formerly Rangoon.  Three decades of military rule have brought the country to destitution.  In the election of 1990, the opposition party won.  The military regime refused to hand over power.  In this repression of the people, democracy leaders were arrested, exiled or killed. The people take courage that today things are indeed looking more hopeful.
Myanmar is one of the world's poorest countries despite the wealth of its natural and human resources. The only successful export industries are illegal – opium and teak lumber.
Officially, there is freedom of religion. Buddhism is no longer the state religion, but it still has a great influence in governmental affairs.   Eighty-seven percent of the population are Buddhist; three percent are Muslim; and six percent are Christian.  At times, the church members are pressured to return to Buddhism.