Paraguay – Niños de Promesa
Sandra Greve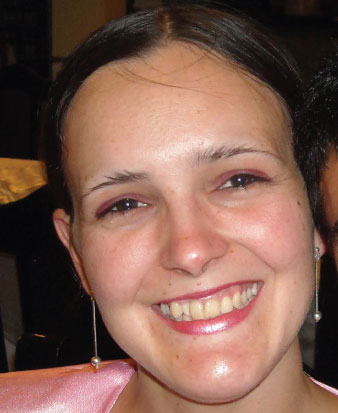 Niños de Promesa
Children of Promise began in Paraguay in 2004 under the direction of Julie Kurrle, Church of God missionary.  Now the ministry is led by Sandra Greve, who is from Paraguay.
The ministry serves 104 children in four congregations of the Church of God.  The children's families live in poverty conditions, unable to provide the basic necessities for education and nutrition.  Homes are very small, with families living in crowded conditions.
The children are active in their respective congregations.  They are cared for, prayed for, and assisted by local committees in each area.  The sponsored children are provided with food, basic medical care, educational assistance, and Christian nurture.
The cost of sponsoring a child here is $32 per month. Your support is giving a very special child hope and a future.  Thank you!

Paraguay, South America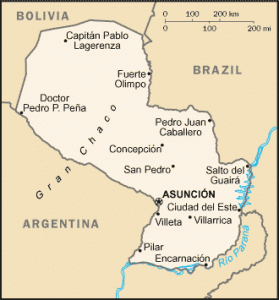 Paraguay is located in the central region of South America.  It is a landlocked country, bordering Argentina, Bolivia, and Brazil. Most of its population is concentrated in the southern part of the country.   It hosts a subtropical to temperate climate.  There is substantial rainfall in the eastern portion of the country, while it becomes semi-arid in the far west.
In recent years, there has been a marked increase in political infighting.  Nevertheless, since the overthrow of a 35-year military dictatorship in 1989, Paraguay has held relatively free and regular presidential elections.
Paraguay has two official languages:  Spanish and Guarani.  Ninety-five percent of Paraguayans are mestizo, which is mixed Spanish and Amerindian.  Over 90% of the population is Roman Catholic.
Paraguay faces challenges today with deforestation, water pollution, inadequate means for waste disposal (which presents health risks for many urban residents), and loss of wetlands.
A large percentage of the population derives their living from agricultural activity, often on a subsistence  basis.    Paraguay  has  struggled with poor  economic performance which has been blamed on political uncertainty, corruption, lack of structural reform, internal and external debt, and a deficient infrastructure.