Uganda – Upendo (Love)
Colleen Stevenson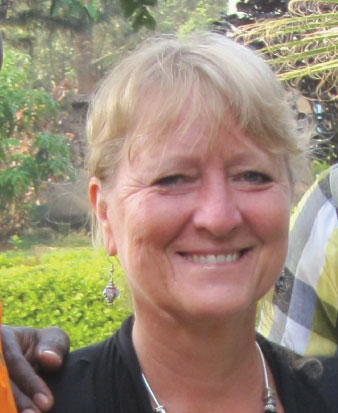 Upendo
Started in 1995, Upendo, the Swahili word for 'love', is lead by Missionary Colleen Stevenson. She had a great vision of helping children with education, nutrition, medical care, and spiritual nurture.  The program assists over 840 children each year.  Sponsored children live in 15 different areas throughout Uganda.
Many of the sponsored children which attend Kasubi Primary and Secondary School in Kampala, a Church of God school system that offers a good Christian education.
All the children need and receive wholesome food, clothing, medicine when they are sick, and schooling. The area churches provide Christian nurture needed for their spiritual growth. Very few children have or live with both parents; most are cared for by their grandmothers and other family members, due in large part to AIDS. The families are very poor and have much difficulty in providing even food.
The cost of sponsoring a child here is $32 per month. Your support is giving a very special child hope and a future.  Thank you!

Uganda, East Africa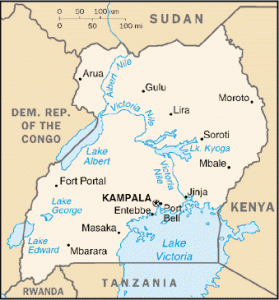 Uganda is located in East-Central Africa.  It is bordered by Tanzania, Kenya, Sudan, the Democratic Republic of Congo, and Rwanda. Much of the land in Uganda is fertile and well-watered. Kampala is the capital and home to 775,000 people. The official language is English while many speak Swahili.
The climate is temperate in the highlands. It is hot and tropical in the lowlands. Uganda has long been known as the "Pearl of Africa."
Uganda gained independence from Britain in 1962. One of the darkest periods in Uganda's history was the 1970's. Many people perished under Amin's dictatorship. Christians were persecuted and restricted. Today, however, there is freedom of religion. Eighty-four percent (84%) of the people are Christian, eight percent (8%) are Muslim, and the rest follow traditional religions.
AIDS is epidemic, with an estimated 25-30% of the population suffering from the disease. The long-term effects on the population have been devastating. There are an estimated 1.5 million children who are orphans because from AIDS.