(photo – Quarterly distribution of rice in Bangladesh.)

Dr. Paul L. Maxfield
Executive Director

One of the things I love about being the executive director of Children of Promise is that I get to speak all over the country and the world, meeting the most interesting, sincere, generous, and caring people.  Everywhere I go, people are concerned about children in need and want to help.  Once they hear that sponsors touch Real Lives with Real Impact resulting in Real Change, they get excited, Really excited!
As I talk with people about the desperate needs of children, I often hear this remark:  "I've always wanted to help a child.  I see the advertisements on TV, and my heart is moved, but…….I'm just never sure whether my money will really be used as stated.  I ask myself, 'Does the money really go to my child?'"
I love to respond to these comments, because I can reassure them that their funds are being used as stated by COP.  I examine financial records, I go through receipts, I ask the hard questions, and I talk with the children and their families.
(photo -Examining receipts and records in Malawi.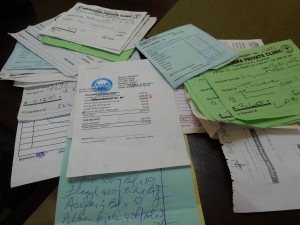 And this past month, our auditors confirmed that Children of Promise is excelling at accountability, tracking donations, and providing benefits as promised.  They examined our procedures, our processes, our accounting, our distribution of funds, and how we track what happens to the funds overseas.
The end result was an A+ audit.  Normally, after every audit an organization goes through, the auditors will have a list of things that the organization needs to improve, alter, or change.  This year, there is no list for Children of Promise.
I am so proud of our staff and volunteers, both here in the U. S. office and overseas.  They work tirelessly on behalf of the children.  Our directors are conscientious in making sure the funds are used appropriately and for the children's benefit.
You can be assured that your donations are going where we say they are going……and are being used for the children.

Real Lives.

Real Impact.

Real Change.

Really.
Join me in congratulating our directors overseas and our U. S. staff on a job well done.